Hui ʻĀina Momona (HAM)
Hui ʻĀina Momona (HAM) is designed to transcend traditional academic boundaries and to focus on cross-disciplinary solutions to natural and cultural resource management, sustainability, and food security issues facing Native Hawaiians, Pacific Islanders, and other Indigenous communities integrating contemporary and traditional Hawaiian knowledge and practices.
---
Greg Chun was raised in Windward Oʻahu, first in Kualoa where he spent his early years and then later in Kailua where the family relocated. He grew up with ocean activities, particularly surfing and competitive canoe paddling, as strong interests and continues to enjoy these pursuits on a recreational basis today. This upbringing provided him a deep appreciation for the stewardship kuleana that we as a community bear to ensure Hawaiʻi's natural environment is preserved for future generations.
Greg is currently an Associate Specialist at the University of Hawaiʻi at Mānoa (UHM) where he provides consultation, technical assistance, and training in community-engagement processes, particularly as it relates to bridging complex scientific research, land development, resource management, education, economic development, and policy issues with culture and community. He is a member of the Hui ʻāina Momona cluster, a group of faculty responsible for developing a program of cross disciplinary scholarship designed to prepare students and working professionals to work at the nexus of these disciplines and processes. Greg is currently working on projects in the areas of water resources, historic preservation, and land use. In his spare time, Greg also provides consultation services specializing in community engagement, sustainable development, and organizational improvement.
Greg is a non-traditional academic coming to the University after years in the private sector. Prior to joining UHM in 2013 he was employed at The Kamehameha Schools where he served as President of Bishop Holdings Corporation, the Estate's for-profit development and investment subsidiary, and later moved to the Education Division as Vice-President of the Keauhou-Kahaluʻu Education Group. He managed a real estate and financial portfolio exceeding $500M and oversaw a restructuring plan resulting in a return of capital to the parent company of $30M. He was also responsible for the restoration and stewardship of several significant cultural sites in the ahupuaʻa of Kahaluʻu in West Hawaiʻi, and for developing a portfolio of innovative 'āina-based learning programs that broadened KS' educational reach in the region while contributing to the Estate's economic interests at the Keauhou Resort.
Greg's professional experience has spanned numerous industries including electric utilities, land development, ranching, historic preservation, ʻāina-based education, insurance, and health care. In all roles his responsibilities have included leadership and organizational development and strategic planning, with a strong emphasis on engaging community. He is currently Chair of the Maunakea Management Board, past President the Hawaiʻi Leeward Planning Conference and the Hawaiʻi Island Economic Development Board, and is active with several Hawaiʻi Island and Oʻahu non-profits. Greg is a graduate of The Kamehameha Schools, earned his undergraduate degree at the University of Hawaiʻi at Hilo, and his Ph.D. at the University of Hawaiʻi at Mānoa in Clinical Psychology. He and his wife Debra are high school sweethearts and have been married for 38 years.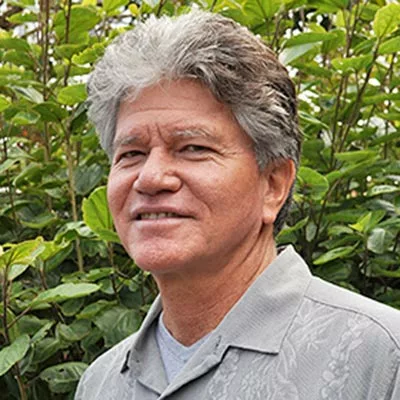 Greg Chun
Associate Specialist